"Gung Hey Fat Choy" (Wishing you Prosperity and Wealth). I learned a lot more about Chinese New Year this year because we have a new friend, Julia, who is from Taiwan.
2008 is the year of the Rat. That's special because the Rat is the first of the 12 animals in the Chinese Zodiac.
Julia explained to us that the animal order was created when the Emperor of the Heavens invited the animals to a race across the river. The rat was the first to cross. That means the year of the rat is very auspicious, as it is the beginning of a 12 year cycle.
We took advantage of our Taiwan-born friend Julia to celebrate the New Year in Chicago's China Town. While we have visited China Town many times before, this time it was much more fun and educational.
Julia took us to her favorite Dim Sum restaurant (Phoenix on Archer Ave.) and personally selected from the endless carts of food, serving as translator and culinary guide so that we had a chance to savor the best and most interesting items. Then we visited Ten Ren's Tea store which offered over 100 varieties of tea and Julia translated the recommendations of the expert staff there to get the perfect choice for our tastes. It was well worth braving a wind chill factor of 35 degrees below zero, dressed like we were visiting Siberia to usher in the Year of the Rat with our knowledgeable guide.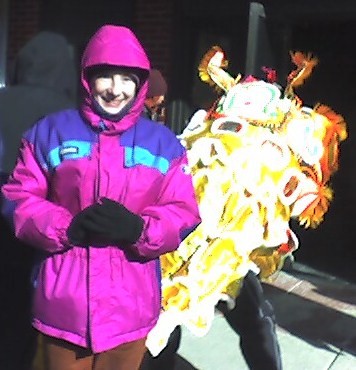 Stefania seeking good fortune from the Dragon while celebrating Chinese New Year in Chicago's China Town
The visit to China Town coincided with a week of strategic focus on my business- tweaking my own business model, which I do every year. But after learning it was the year of the Rat, I could feel this was a special kind of new beginning for me and my 19 year old company.
Perhaps this is an auspicious time to think about bigger plans for your company based on more than the usual annual strategic check in. You could even take advantage of a guide if your journey might take you to places you don't know well. There really is no reason to practice on yourself.
No matter what year it is of the 12 animals, locals always look to the dragon for good luck because, as Julia explained, the dragon is responsible for rain and for protection of life. Perhaps your small business would benefit from more cash to become the big business you really want it to be.
Wishing you and your company prosperity and wealth in this year of the Rat.
Stefania Aulicino is founder president of CapitalLInkUSA. For 19 years Stefania has helped business builders uncover the right capital for their optimum growth strategy so you get cash and keep control to build the business you really want. www.CapitalLinkUSA.com